Become an Insider
Get a free gift....
and get to know me
Hey people, I'm excited to announce that after a LOT of work, my old music store has been rebuilt into the NEW music store.  You can check it out here.  Some cool new features are the ability to filter songs by genre, e.g. "rock" or "blues", etc.  plus you can sort the list in various ways.  As before, you can still pay totally securely through PayPal.  My site has nothing to do with your payment other than sending you to PayPal.  If there are other features that you would like to see, let me know.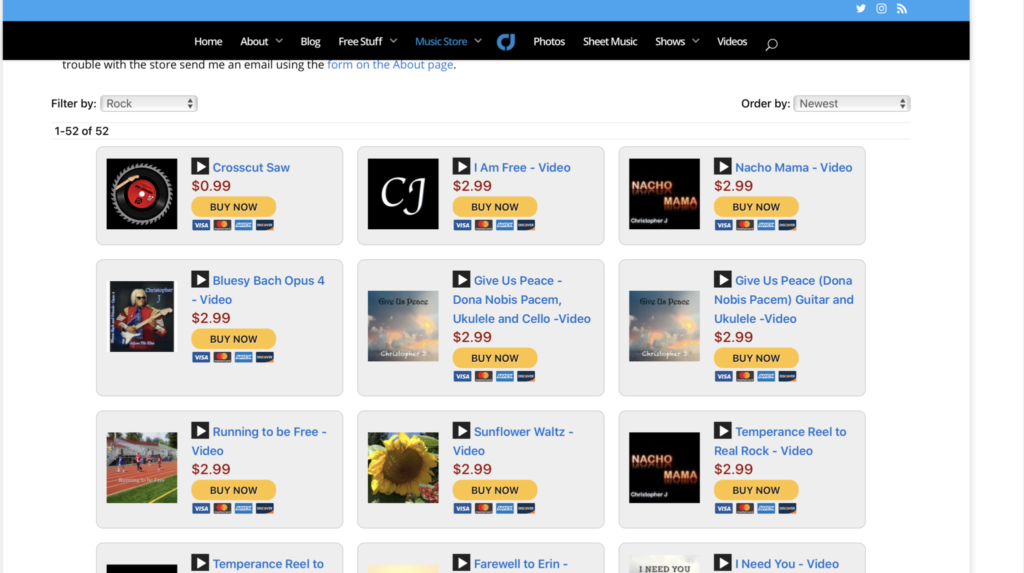 A Quick Intro to Christopher J.
I am Chris Hartzog and this is my website, Christopher J. Music.  I live in the beautiful Pacific Northwest in the Seattle, Washington area.
I've loved music as long as I can remember.  During many years of being a special needs parent to a very high needs child with autism, I started playing guitar again and started writing music.  And through that experience I learned that music not only transcends languages, it also transcends disabilities.
Today my music covers a variety of styles and instruments from folk to blues/jazz, and classical to pop-rock. I am a multi-instrumentalist, playing guitar, bass (electric and upright), ukulele, keyboards, and a singer and songwriter.  I also enjoy playing classical music on the double bass with my local community symphony orchestra.  And, I write, arrange, record and produce songs and put them on this website for people to download and hopefully share and enjoy.
No Results Found
The page you requested could not be found. Try refining your search, or use the navigation above to locate the post.