My latest recording, Bluesy Bach and Friends – Opus 5 (Eine Kleine Nachtmusik), is now released!
Form
As I mentioned in a previous post on my Mozart project, this recording is of the first movement: I – Allegro.  My version of Mozart's Eine Kleine Nachtmusik is essentially a rock quartet, with guitar, bass, organ and drums with jazz and blues-rock influences.  This is definitely one of my longer recordings, clocking in at about 8 minutes 20 seconds.  I have heard that Spotify favors shorter music because I suppose people have shorter attention spans these days due to the clickable nature of the Internet.  But I didn't do this to please Spotify.  I arranged and recorded this because I like what Mozart did and wanted to experience his music through my own interpretation.
Where it's At
You can get your own copy and listen to Bluesy Bach and Friends – Opus 5 (Eine Kleine Nachtmusik) from wherever it is most convenient for you.  It is available in my music store. It is also on CD Baby or through digital distributors like Amazon, iTunes, Spotify and many more!
Sheet Music Coming
As you can see from Mozart's score it was written for Violin 1, Violin 2, Viola, Cello and Contrabass.  My arrangement is for Electric Guitar, Electric Bass,  Hammond Organ, and Drums.  Coming soon will be the sheet music for my complete score.
Here is the cover artwork for the tune.  I think it's pretty cool!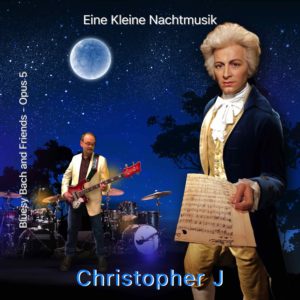 Here is an alternate version of the art that I considered using but it scared me just a little too much to go with!