Become an Insider
Get a free gift....
and get to know me
Hey folks!  It's New Music Tuesday: Alley Cat Blues (meow).
And on and on I go.  Still more blues are coming up for you next week!.  My cover of the 1961 instrumental "Alley Cat" by Bent Fabric, featuring my own arrangement and instrumentation that I have dubbed "Alley Cat Blues" will be released on December 4th. Use this form to Pre-Save "Alley Cat Blues" (or paste https://show.co/5PHNE93 into your browser) to be the first to hear this song!  After December 4th, check back and you can find the tune also on my Music Store page.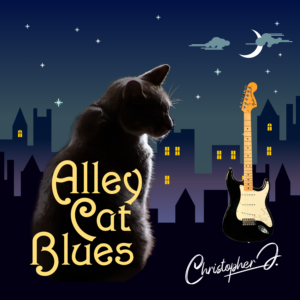 A Quick Intro to Christopher J.
I am Chris Hartzog and this is my website, Christopher J. Music.  I live in the beautiful Pacific Northwest in the Seattle, Washington area.
I've loved music as long as I can remember.  During many years of being a special needs parent to a very high needs child with autism, I started playing guitar again and started writing music.  And through that experience I learned that music not only transcends languages, it also transcends disabilities.
Today my music covers a variety of styles and instruments from folk to blues/jazz, and classical to pop-rock. I am a multi-instrumentalist, playing guitar, bass (electric and upright), ukulele, keyboards, and a singer and songwriter.  I also enjoy playing classical music on the double bass with my local community symphony orchestra.  And, I write, arrange, record and produce songs and put them on this website for people to download and hopefully share and enjoy.