I'm very excited to make this secret project public today: I have a new CD released this week that is, believe it or not, called Bluesy Bach & Friends and you can order it from my Music Store page.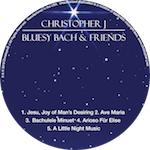 Track Listing
Jesu, Joy of Man's Desiring
Ave Maria
Bachulele Minuet

 

Arioso Für Elise
A Little Night Music
Summary
The CD Bluesy Bach & Friends takes great compositions from the masters Johann Sebastian Bach, Ludwig Beethoven and Amadeus Mozart and reinterprets them with a bluesy groove with jazz and classic rock influences.
Some Helpers
Bluesy Bach & Friends was produced, recorded and mixed at Pamaku Music Studios, Seattle WA. Recorded on a MacBook Pro using Logic Pro X. Graphic design and layout with Adobe Photoshop and Illustrator. Thank you to everyone who supports my music. Bluesy Bach and Friends was recorded on Ibanez Artcore Expressionist and Fender Modern Player Marauder electric guitars, a Schecter Stargazer electric bass, an Eastman double bass and a Big Island tenor ukulele.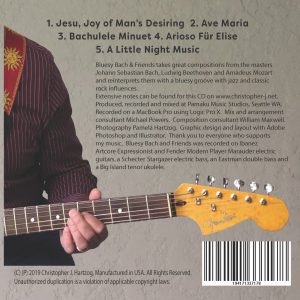 More Info
Jesu, Joy of Man's Desiring
Jesu, Joy of Man's Desiring was my first venture into rearranging Bach to take on a blues groove.  "Jesu, Joy of Man's Desiring" is, per Wikipedia, "is the most common English title of a piece of music derived from the 10th and last movement of the cantata Herz und Mund und Tat und Leben, BWV 147 ("Heart and Mouth and Deed and Life"), composed by Johann Sebastian Bach in 1716 and 1723."
Bach scored this piece for choir, trumpet, violin, optionally oboe, viola, and basso continuo.  My arrangement is scored for scored for four electric guitars, violin 1, violin 2, viola and cello, contrabass, electric bass 1, electric bass 2, timpani and two drum kits.  The guitar plays the violin 1 melody and the double bass plays the choir lines.  A preview of the score and the full score are available for purchase in the sheet music store.
Ave Maria
The second release in my "Bluesy Bach" project, was Ave Maria.  This is based on the Bach/Gounod version of Ave Maria originally titled in French, Méditation sur le Premier Prélude de Piano de S. Bach. Gounod merged his melody for Ave Maria over Bach's Prelude No. 1 in C major, BWV 846.
Gounod's arrangement originally was composed for violin or cello with piano and harmonium. In my arrangement for Bluesy Bach of course I have drums, electric guitar playing the melody along with clavinet (thinking of you Stevie Wonder!), celesta and electric bass. I hope you like it and I hope the Blessed Mother will be pleased.  The Latin and English translation of Ave Maria is shown below.
Áve María, grátia pléna,
Dóminus técum.
Benedícta tū in muliéribus,
et benedíctus frúctus véntris túi, Iésus.[10]
Sáncta María, Máter Déi,
óra pro nóbis peccatóribus,
nunc et in hóra mórtis nóstrae. Ámen.
Hail Mary, full of grace,
the Lord is with thee;
blessed art thou amongst women,
and blessed is the fruit of thy womb, Jesus.
Holy Mary, Mother of God,
pray for us sinners,
now and at the hour of our death. Amen.
Bachulele Minuet
This "Bluesy Bach" adventure took me into ukulele land with the release of Bachulele Minuet.
Johann Sebastian Bach gave two notebooks of music to his wife, Anna Magdalena. The second notebook of 1725 contains a number of compositions from various composers of the time that were favorites of the Bach family. Included in the notebook is Menuett, BWV Anhang 114, popularly known as Minuet in G major, which became focus of my attention in my ongoing "Bluesy Bach" series of recordings. This recording is my own unique approach to this piece which I hope you enjoy.  By the way, during my research on this song I learned that for many years this Minuet (Menuette in French) was ascribed to JS Bach, however it is now attributed to Christian Petzold.
You might also want to check out the song "A Lover's Concerto", which was based on the Minuet in G major. The song was recorded by the girl group The Toys and reached number 2 in the US Billboard Hot 100 chart.
Arioso Für Elise
Arioso Für Elise was released as "Opus 4" in my series of "Bluesy Bach" recordings. With this recording I  expanded the title from "Bluesy Bach" to "Bluesy Bach and Friends".  In this tune I combined elements from Beethoven's "Für Elise" with Bach's "Arioso".
The Arioso a sinfonia from Bach's Cantata BWV 156.  In German is titled, "Ich steh mit einem Fuß im Grabe" (I am standing with one foot in the grave). BWV 156 is a cantata for church that Bach composed for the third Sunday after Epiphany and first performed it on January 23, 1729.
Beethoven's Für Elise (Bagatelle No. 25 in A minor (WoO 59, Bia 515)) was not published during his lifetime.  It was actually not discovered until about 40 years after Beethoven's death.  There has been much debate on exactly who "Elise" might have been. At any rate, it is a delightful melody and has been very popular for good reason.
My arrangement used electric guitar (Ibanez Artcore Expressionist semi-hollow body), Hammond organ, drums and percussion. The tracking was recorded with Logic Pro X digital audio workstation.  Mastering was performed by SoundLAB. I would like to thank my friend Michael Powers for arranging and mixing assistance.
A Little Night Music
A Little Night Music was my Mozart Eine Kleine Nachtmusik project and this recording is of the first movement: I – Allegro.  My version is essentially a rock quartet, with guitar, bass, organ and drums with jazz and blues-rock influences.  This is definitely one of my longer recordings, clocking in at about 8 minutes 20 seconds.  I arranged and recorded this because I like what Mozart did and wanted to experience his music through my own interpretation.