Here are a few photos from a Norwegian friend and colleague on life in Norway to confirm that Hell froze over!
My friend wrote me:
A few facts, with evidence below:

Hell is in Norway
Hell just froze over (this year also)
God got an expedition in Hell.  This picture is taken at the train station in Hell.
Yes that is the real name of the place. (Meaning something like Stone slap or Stone plate).
Gods-expedition = goods/freight terminal. And yes…. It's cold there, about -5 degrees C today.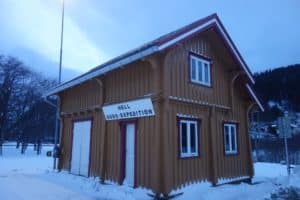 Here is a recent photo of the Northern Lights from Narvik, Norway!  Very cool! (in more ways than one!)