Hi everyone,
I thought I would share my attempt at emulating the synth bass sound in Michael Jackson's Thriller using the Roland GR-55 guitar synthesizer and my Ibanez bass equipped with a Roland GK-3B bass pickup.
The Pickup
First of all, the pickup and controller installation on my bass is not ideal from a playability standpoint due to the shape and layout of my bass.  I have tried mounting it in various locations and where I have it now seems to be the best compromise.  One of the annoying things about the controller is that the volume knob is very loose and super easy to bump while playing which results in unintended consequences!  To remedy that I pulled the knob off the shaft and added an O-ring around the shaft and put some foam into the inside knob cavity.  That really tightened it up so accidental volume changes are not an issue anymore for me.  The other problem is the S1/S2 switches are also easy to bump, but by being careful during playing I have been able to avoid them.  However, I would like to find a more fool proof solution.  If you have any ideas, let me know!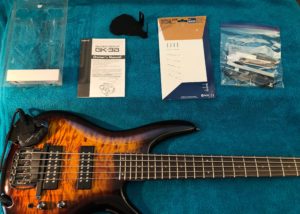 GR-55 Floorboard Settings
In the video below, the first image is the main page in the GR-55 Floorboard Editor (courtesy of Gumtown on Vguitarforums.com) and as it shows, for the Thriller patch I am using two PCM synth sounds, number 241 Synth Bass 2 and 18 Fretless Bass as well as an electric bass COSM model and some of my normal pickups blended in.  I found that having the electric bass blended in added a little more definition which is needed for the staccato parts in Thriller.  
The image for PCM Synth 1 shows the details for that tone.  I believe that a Mini Moog was used in the Jackson recording.  There is a PCM tone in the GR-55 called Big Mini that I thought could be a Moog like tone, but when I used it the sound just wasn't right.  So I auditioned more PCM tones and finally settled on 241. 
The image for PCM Synth 2 shows the details for that tone which is for tone 218 Fretless Bass 1.  This gave the sound it a little more edge.
The next image is for the electric bass COSM model, which in this case is number 4, Precision Bass.  As you can see I have the volume and tone at 100 %.
And finally, the last screen is for the amp that I chose:  A clean bass amp with middle gain.  Next is a short sample of how the GR-55 Thriller Bass patch sounds.
Here's the video.