I have a book called "The Fiddler's Fakebook" left over from my aborted attempt at learning to play the violin/fiddle. I never got rid of the book because I love a lot of the music in there and find it enjoyable to play on the guitar.
My recording of "Angeline the Baker" is an arrangement I created of an old time fiddle tune based on a song called Angelina Baker written by Stephen Foster for the Christy Minstrels, and published in 1850. The original laments the loss of a woman slave, sent away by her owner. The melody of the fiddle tune, Angeline the Baker differs from the Stephen Foster version.
In my arrangement and instrumentation in this recording I spiced it up and added a bit of country flavor!  See my music page to buy a copy of Angeline the Baker.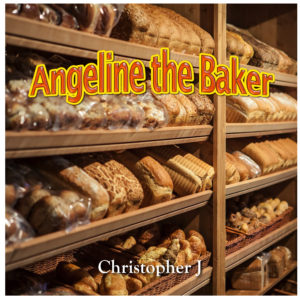 According to Wikipedia, Lyle Lofgren, writing for Inside Bluegrass, publication of the Minnesota Bluegrass and Old-Time Music Association, "Foster published Angelina Baker in 1850, and it was featured on stage by the original Christy Minstrels." The melody and lyrics to the original Angelina Baker are:
Angeline the baker lives in our village green,
The way I always loved her beats all you ever seen.
Chorus
Angeline the baker, her age is forty-three,
I bought her candy by the peck, and she won't marry me.
Chorus
Her father is the miller, they call him Uncle Sam.
I never will forget her, unless I take a dram.
Chorus
Angeline is handsome, Angeline is tall,
They say she sprained her ankle a-dancing at the ball.
Chorus
She can't do hard work because she is not stout,
She bakes her biscuits every day, and pours the coffee out.
Chorus
I'll never marry no other girl, no matter where I go.
I said I'd marry Angeline just twenty years ago.
Chorus
The last time I saw her was at the county fair.
Her father run me almost home and told me to stay there.
Chorus
---
But then, making the history of this tune even more interesting is this comment that was posted on Mudcat.org:
There is a recording of "Angeline the Baker" on the Folk-Legacy CD, "The New Golden Ring: Five Days Singing." Lyrics are the same as what's in the Digital Tradition database. Here's what the CD notes say:

This is an old Eck Dunford tune with possible Negro origins. Frank George, fiddler from West Virginia, calls it "Angeline" and gives it Scottish overtones. In some parts of West Virginia it is called "Angeline Baker," thus causing some friction between fiddlers when it is played. The tune was played only as an instrumental; the words are a comparatively recent addition. There is a Stephen Foster song called "Angelina Baker," and the tune may have some derivision from that, or perhaps it's the other way around. (notes by Sara Grey)