As a new Freddie King fan I have begun acquiring some of his music.  To date, I have bookends of his career:  Let's Hide Away and Dance Away with Freddy King which was released the year I was born, 1961 and Burglar released in 1974 two years before Freddie's death and the beginning of my teenage years.  I also enjoy the compilation album, Freddie King, Ultimate Collection.
Let's Hide Away and Dance Away with Freddy King
The album Let's Hide Away and Dance Away with Freddy King is an all instrumental album and includes his breakout hit, "Hide Away".  Many of these tunes are pretty catchy, and "San-Ho-Zay" is another on the album that I especially like.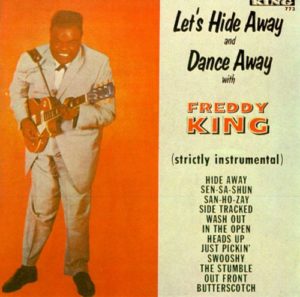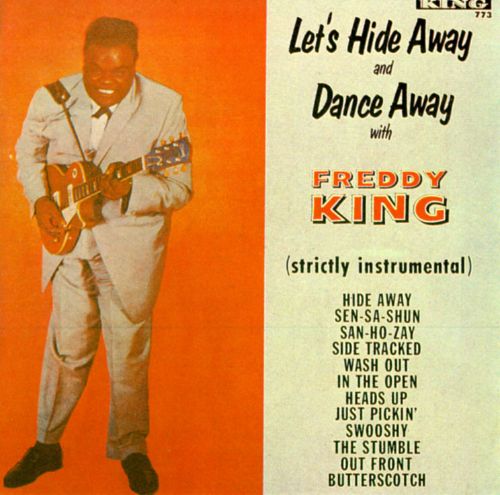 Track listing:
Hide Away – 2:43
Butterscotch – 3:04
Sen-Sa-Shun – 2:54
Side Tracked – 3:07
The Stumble – 3:14
Wash Out – 2:38
San-Ho-Zay – 2:40
Just Pickin' – 2:33
Heads Up – 2:33
In the Open – 3:11
Out Front – 2:40
Swooshy – 2:19
Musicians:
Fred Jordan – guitar, rhythm guitar
Freddie King – guitar, vocals
Phillip Paul – drums
Gene Reid – saxophone
Clifford Scott – saxophone
Sonny Thompson – piano
Willis Williams – bass guitar
Burglar
When Burglar was recorded, Freddie had left Shelter Records and signed with RSO Records based in the UK due to persuasion from his lifelong fan, Eric Clapton.  As the credits in the liner notes indicate this was a massive production which included some of the most prominent musicians of the time beginning with Slowhand himself plus JJ Cale, Issac Hayes and George Terry.  The sound of Burglar could be described as Blues meets Funk.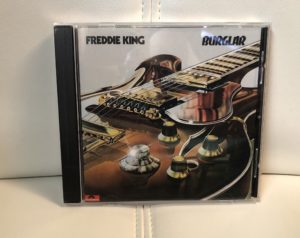 Track listing:
Pack It Up – 4:10
My Credit Didn't Go Through – 4:09
I Got the Same Old Blues – 3:27
Only Getting Second Best – 3:47
Texas Flyer – 3:48
Pulp Wood – 3:13
She's a Burglar – 3:51
Sugar Sweet – 3:50
I Had a Dream – 5:02
Come On (Let the Good Times Roll) – 3:32
Credits:*
Artist / Credit
P. Arnold Vocals, Vocals (Background)
Patrick Arnold Vocals (Background)
Brian Auger Guest Artist, Organ
Bud Beadle Sax (Baritone)
Misty Browning Vocals, Vocals (Background)
J. Cale Composer
Ron Carthy Main Personnel, Trumpet
Gonzalez Chandler Composer
Eric Clapton Guest Artist, Guitar, Main Personnel
Roy Davies Clavinet, Composer, Keyboards, Main Personnel, Organ, Piano, Piano (Electric)
Robert Davis Composer
Bob Defrin Art Direction
Roger Dopson Liner Notes
Tom Dowd Producer
Mick Eve Saxophone
Mick Eves Sax (Tenor)
Steve Ferrone Cabassa, Composer, Drums, Main Personnel
The Gonzales Horn Section Arranger, Horn, Horn Arrangements
Steve Gregory Horn Arrangements, Sax (Soprano), Sax (Tenor)
Barry Hammond Engineer
DeLisle Harper Bass, Composer, Percussion
Isaac Hayes Composer
Richie Hayward Composer
Gary "Gazza" Johnson Composer
Earl King Composer
Freddie King Composer, Guitar, Main Personnel, Primary Artist, Vocals
Steve Klein Engineer, Remix Assistant
Slick Lawson Photography
Mel London Composer
Chris Mercer Horn Arrangements, Sax (Tenor)
Jamie Oldaker Drums
Peter Palombi Cover Illustration, Illustrations
Greg Perry Composer
David Porter Composer
Carl Radle Bass
Jerry Ragovoy Composer
Dick Sims Keyboards, Organ
Bobby Tench Composer, Guitar
George Terry Guitar
Mike Vernon Audio Production, Composer, Drums, Percussion, Producer, Remastering, Remixing
Donnie Vie Vocals, Vocals (Background)
Pete Wingfield Clavinet, Composer, Keyboards, Piano, Piano (Electric)
*(reposted from the album summary on Allmusic.com)