Henehene Kou 'Aka is one of my favorite songs to play on 'ukulele.  Everything I have seen so far refers to this as a "traditional" song, so I assume it is in the public domain.  Brother IZ did  some great covers of it which appear on his Facing Future, IZ in Concert and Alone in IZ World albums.  It's great fun and they lyrics are, I think, better in Hawaiian than in the English translation.  I have provided both below.  In short, it's a story of boyfriend and girlfriend going for a date on the streetcar in Honolulu.
There's more 'ukulele stuff on my 'ukulele page.  Check it out.
Chord Chart
A PDF is also available to download.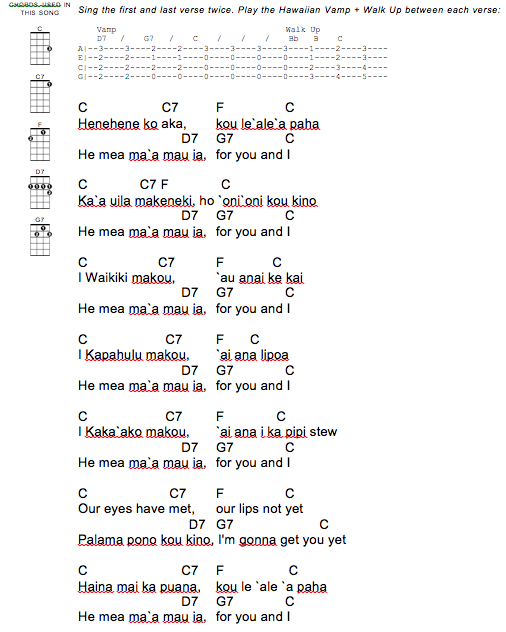 Hawaiian Lyrics
Henehene ko aka, kou le`ale`a paha
He mea ma`a mau ia, for you and I
Ka`a uila makeneki, ho `oni`oni kou kino
He mea ma`a mau ia, for you and I
I Waikiki makou, `au anai ke kai
He mea ma`a mau ia, for you and I
I Kapahulu makou, `ai ana lipoa
He mea ma`a mau ia, for you and I
I Kaka`ako makou, `ai ana i ka pipi stew
He mea ma`a mau ia, for you and I
Our eyes have met, our lips not yet
Palama pono kou kino, I'm gonna get you yet
Haina mai ka puana, kou le `ale `a paha
He mea ma`a mau ia, for you and I
English Translation
Your laughter is so contagious
It's fun to be with you
Always a good time
For you and I
The streetcar wheels turn
Vibrating your body
Always a good time
For you and I
To Kaka`ako we go
Eating beef stew
Always a good time
For you and I
To Waikiki we go
Swimming in the sea
Always a good time
For you and I
To Kapahulu we go
Eating seaweed
Always a good time
For you and I
Tell the refrain
It's fun to be with you}
Always a good time}
For you and I